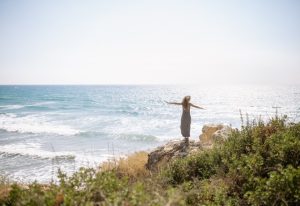 Sunlight is Energy!
Sunshine supports the body's systems and assists the body in natural healing.  Sunshine, Fresh Air, and Water have long been known and utilized for their healing properties.  The sun is literally our life source!
In this section we will learn about:
The Benefits of Exposure to Sunlight
Sunlight & Vitamin D
Healthy Sun Exposure Practices
How Healthy Eating Provides Protection 
Sun Gazing
Grounding/Earthing
Fresh Air
How Negative Ions Affect Your Brain & Renew Your Energy
Seawater/Beach Sand
Hydrotherapy/Water Therapy
You can follow along on pages 60-68 in your book.
What you will need:
The Transformation Book
My Transformation Journal (optional)
Slide/Notes Pages – For Note Taking
Remember to hit complete when finished viewing the video below.
/div>
CALL TO ACTION:
What is one new thing you learned about Sunshine in this section?
Given where you are at in life right now, the time of year, and your geographic location, what new therapy can you begin to include in your routine that improves your exposure to healthy sunlight, fresh air, or water?