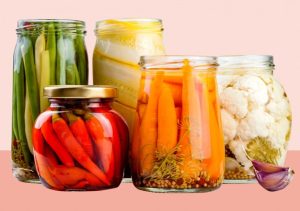 Fermented foods used to be a staple in the diets of our ancestors.  These foods aid digestion and are packed with nutrients!  Fermentation makes everything better!
The fermenting of foods can be traced back to ancient times. These foods were consumed on a daily basis.  Sadly, these foods have almost completely disappeared from our diet today.
In this section we will learn about:
The History of Fermentation 
Nutritional Benefits of Fermentation
Additional Benefits of Fermentation 
Shopping Tips for Dairy Products
What you will need:
The Transformation Book
My Transformation Journal (optional)
Slide/Notes Pages – For Note Taking
Remember to hit complete when finished viewing the video below.
CALL TO ACTION:
What is a new fermented food that you learned about in this section?
What fermented food/beverage can you purchase and incorporate into your meal plan this week?
What fermented food recipe would you like to try making?(Nourishing Traditions is a great resource book for ideas and recipes)