Suggested Supplement Plan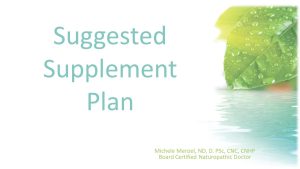 In this section of the Transformation book, we will discuss the importance of General Supplementation and Supplemental Therapy as well as learn about the supplements designed to go along with the 48 Days – The Basic Supplement Package, The Additional Support Package, and the Cleansing Package.
These supplements were designed to assist you through the Transformation. As your body is changing and eliminating, these products will provide much needed support.  They can make all the difference in the world when it comes to detoxification symptoms that could occur. The Basic Supplements can be used everyday for the rest of your life as a means of natural detoxification and general everyday energy support.
You many follow along in you book, pages 88-104.
You will need:
You are now ready to learn about the supplements for your Transformation! Start the video below and when you are finished click complete!
CALL TO ACTION:
What support supplements can you start on right away?
What support supplements can you add next week?  Next month?