Organic and locally Grown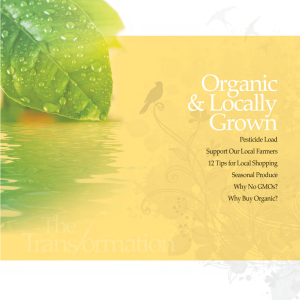 It's so common for people to ask – Is Organic really that much better?  YES!
Organic is better for many reasons!  Locally grown organic is even better!  When you buy organic, you're getting:
Hormone free
Antibiotic free
Pesticide & herbicide free
Non-GMO/ Non-BE
Higher nutrient levels
Prenatal benefits
Higher levels of antioxidants
It's better for the economy and the planet!
It even tastes better!
You can follow along in your book on pages 175-186.
What you will need:
The Transformation Book
My Transformation Journal (optional)
Slide/Notes Pages – For Note Taking
Enjoy the video below and when finished, hit complete and move ahead to the next lesson.
CALL TO ACTION:
Seek out what is available in your area.  Do you have local farmer's markets?  What about a community co-op?  What are there hours and locations?
Visit your local markets and get to know your local farmers.  What are their farming practices?  Do they plant Organic/Non-GMO seeds?   Do they use herbicides/pesticides?  Do they use vaccines/hormone therapies in their livestock?  What do they feed their livestock?  What meats, dairy, and produce do they raise and have available for purchase?