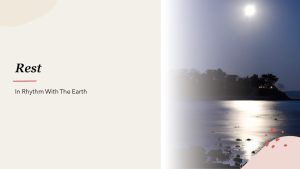 If I were forced to chose just one of the 7 Laws of Wellness to label as the most important, it would be Rest!
Today we are busier than ever!  We are constantly on the run, multitasking whenever possible, and placing demands on our body at every turn along the way!
It's important that we allow the body a period of downtime each and every day.  It is during this period of rest that the body is able to heal and renew from the activities and stressors of the day.
There are enough hours in each day to accomplish the things that MUST be done.  As for the remaining items on the to-do list – Tomorrow is a new day filled with new opportunities.  Do what you can, surrender what you can't, and allow your body time to rest and renew.  With proper rest, we can awaken with a new vitality to take on the challenges of a new day and everything it has to offer!
In this section we will learn:
The Two Phases of the Body
The Importance of Positive Thinking
Lifestyle Tips for a Healthy Sleep Pattern
Natural Therapies that Promote Rest and Wellness
You can follow along in your book on pages 44-49.
What you will need:
The Transformation Book
My Transformation Journal (optional)
Slide/Notes Pages – For Note Taking
When finished with the video below, remember to hit complete before moving ahead to the next lesson.
CALL TO ACTION:
What new activity/therapy can you implement into your evening routine today that will help promote restful sleep?
Take a look at your schedule/priority list.  What adjustments can be made to reduce your stress level?  Is there anything that can be eliminated?
What adjustments/additions can you make to your home over the upcoming months that will promote a peaceful environment and rest?