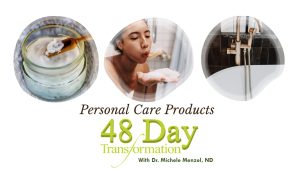 I am often asked what I use on my skin! Our skin is the largest organ of the body and absorbs everything you put on it! Lets dive into this section of the book and learn about some of the best personal care products on the market. In fact, I have used the same products for years! They are still my fav's!
You will need:
The Transformation Book
Slide Notes Pages – For Note Taking
CALL TO ACTION:
Are there any personal care products you are needing to replace right now?  What would be an improved version of this product that you could use as a replacement?
What is a new personal care product that you can incorporate into your routine to better support your skin and body?