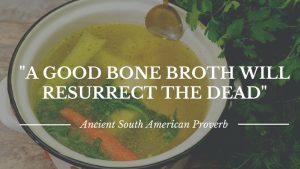 Bone broth is a medicinal food that has been enjoyed by our ancestors for many generations.  Sadly, bone broth has nearly disappeared from our diet today.  Store bought broth is not nearly as nutritious nor does it taste as delicious as homemade broth made from scratch.  One might assume that making bone broth is a grueling task that's nearly impossible.  Although making bone broth does take some time, you'll be pleasantly surprised at how easy and inexpensive it is!      And did I mention it's delicious???
In this section we will learn about:
Benefits of Bone Broth
Minerals Found in Bone Broth
Fasting & Cleansing
Frugal Benefits
You can follow along on pages 212-215 in your book.
What you will need:
The Transformation Book
My Transformation Journal (optional)
Slide/Notes Pages – For Note Taking
Remember to hit complete when finished viewing the video below.

CALL TO ACTION:
What "scraps" can you save this week and freeze to be used in bone broth?
What sources do you have available in your area to purchase whole, organic chicken?
Where can you incorporate chicken into your weekly meal plan in the near future so you can utilize the bones from broth?
What recipes can you work into your meal plan that utilize your delicious homemade bone broth?  Don't forget, a cup of warm broth is a great way to warm up on a cold winter day!!