Transformation Seminar Part Two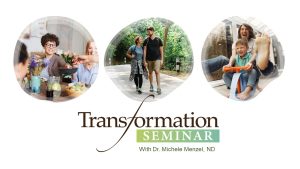 Welcome to Part 2 of the Transformation Seminar!
In Part 2 of the Transformation Seminar we will discuss hydration, detoxification, rest, faith, exercise/oxygen, and sunshine/outdoors.  These make up the remaining 7 Laws of Wellness that were not discussed in the morning session.
With the knowledge of these laws to provide a guide for living a lifestyle that aligns with our natural design, we will then learn about the following:
Stages of the 48 Day Transformation
How to Get Started
What to Eat
How to Stock Your Kitchen
Suggested Supplement Plan
The Seminar concludes with a look at the importance of a daily routine.  Planning is vital for success so tips and ideas are included!
Below you will find the link to the slide notes for Lesson 2.  Please feel free to print this for personal use for reference as needed throughout the lesson.
Transformation Seminar Afternoon- Slide Notes
Below you will find the video segments for Part Two of the Transformation Seminar.
The Transformation Seminar has given you the foundation you need to begin your own Transformation!  I hope you're now inspired to take the next step and participate in the 48 Day Transformation where you will be led through the 48 Days with a week by week deep dive into the 7 Laws of Wellness and Nutrient Dense Foods.  Video segments will provide you with the knowledge base to deepen your level of understanding and expand your reason for why you want to transform the way you eat and live for LIFE!  The 48 Days also includes video demonstrations and tips/ideas to implement this new knowledge into your daily routine.  Step into action with the 48 Days!