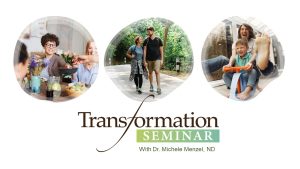 Welcome to the Transformation Seminar!
I am so glad you are here!  My hope is that with the knowledge you gain from this seminar, you will be inspired and ready to begin your own personal Transformation.
The purpose of the Transformation Seminar is to provide you with a new knowledge.  We fear what we don't understand so I want to share with you the knowledge and understanding of how the body is designed, the true cause of symptoms and illness, and how to support the body through eating and living naturally for life!  We are designed to heal naturally!  When we support the body through living an aligned lifestyle, we will experience more than just mere survival.  We will THRIVE!
Below you will find the links to all course handouts.  Feel free to print these for your own personal use.  You can refer to these handouts throughout the course.  If you have a copy of The Transformation 48 Days to Eating and Living Naturally for Life, you may also use the book to follow along with the content of this course.
Copy of TransformationSeminar_Itinerary2022
Copy of TransformationSeminar_Worksheet
When ready, click on Transformation Seminar Part One below to proceed to the first lesson.  Enjoy!